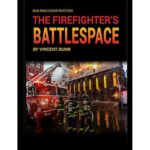 Building Construction: The Firefighter's Battlespace by Vincent Dunn
September 10, 2023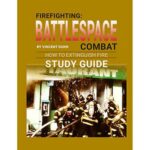 Study Guide for Firefighting: Battlespace Combat by Vincent Dunn
September 10, 2023
What is this book, Battlespace Combat, about? It is not about fire spread or construction; this is a how-to book. It is about strategy; it contains action plans; it shows how to fight fires in 20 of the most complex and difficult occupancies encountered during my 40-year career.
Battlespace Combat answers the most important questions about firefighting: Hose-line positioning; ground ladder placement; aerial ladder location; primary smoke venting; locating trapped victims; how and where flame spreads inside and outside a building; collapse dangers; game-changing events; and last, but not least, how to evaluate successful and unsuccessful firefighting operations.
This book is not about building construction or the enemy, fire; Battlespace Combat focuses on the occupancies. Builders define occupancies as public, commercial and residential. Occupancy is defined by a building's usage. Fire Officers define occupancy more precisely, by the complexity and difficulty they pose during fire extinguishment. Occupancy features that create firefighting complexity and difficulties and that builders do not consider include stairways, hallways, air and light shafts, fire escapes, roof skylights, scuttle covers, voids, concealed spaces, knee walls, attics, cocklofts, roof spaces, large, open areas, high ceilings, basements, cellars and sub-cellars.
Battlespace Combat is not a book about firefighting tactics; it explains firefighting strategy; describes planning and fire action plans; and details how to use plans to effectively manage fire apparatus, Firefighters and fire equipment to combat fire in 20 of the most complex and difficult occupancies.
This book is not written for the new Firefighters who first must learn about flame, smoke, heat and toxic gases, nor is it geared to the building construction battlespace. Battlespace Combat is written specifically for veteran Incident Commanders (ICs), who must plan and direct firefighting operations large and small.