ENGINE 160 PATCH
April 19, 2019

JACKSON HEIGHTS KNIGHT HOUSE PATCH
May 27, 2019
ENGINE 55 PATCH
Introducing  June's "FDNY FIREHOUSE OF THE MONTH"

FDNY ENGINE 55 – Little Italy, NY

Join us we celebrate each month, one of FDNY's many firehouses/stations that house NYC's Bravest.
Firehouse: Engine 55
Nickname: Cinquantacinque
Location: 363 Broome Street, Little Italy, N
Y
Did you know:
Engine 55 is known as "Cinquantacinque," Italian for "Fifty-Five," as it has been the firehouse in Lower Manhattan's Little Italy for over a century (formed in 1887). More recently, the area around 55 has increasingly become part of Chinatown.
Blocks from the original "Five Points" of New York City and America's "Skid Row" (The Bowery), Engine 55 has a proud 130+ year history of protecting some of the city's most vulnerable populations, as well as some of its most affluent in nearby TriBeCa and SoHo.
Engine 55's beautiful three-story firehouse, built in 1889, was designed by R. H. Robertson. The house's architecture represents a transition from Romanesque Revival and the more ornate Beaux Arts style, both popular in the late 19th century. The iconic facade is a combination of limestone and terra cotta, decorated with ribbons, oak leaf wreaths, lions heads, and at least one phoenix.
Engine 55's iconic first-floor arched-tile ceiling was constructed by famed Italian tile master Rafael Gustavino, who created the masterpiece before going on to build a similar ceiling in Grand Central Terminal's Oyster Bar. Both ceilings remain today.
Members of Engine 55 have risen to every rank in the NYC Fire Department over the years, including Chief of Department and later FDNY Fire Commissioner, Salvatore Casano.
Engine 55 was home to Manhattan's first African American firefighter, Wesley Williams, who went on to become the first African American supervisor in the New York City Fire Department when he was promoted to Lieutenant in 1927. Williams had worked as a fireman, lieutenant and later Captain, all at Engine 55. By the time Williams retired in 1952, he was a Battalion Chief and the highest-ranking African American fireman in the United States.
Before finding success as an actor, Steve Buscemi (Boardwalk Empire, Fargo) was a New York City Firefighter and a member of Engine 55 from 1980-1985.
Defining "irony," much to the chagrin of its members, the quarters of Engine 55 suffered a fire of its own in 2007 while the company was out fighting another blaze in the East Village. The firehouse conflagration was a "Second Alarm upon Arrival" and was later traced back to a faulty computer battery. The company was relocated to the quarters of Ladder Company 20 on Lafayette Street for almost a year while the Broome Street firehouse was repaired and rebuilt.
Engine 55's side view mirrors are tucked in tighter than on most fire apparatus. This necessary modification allows 55 to leave its very quarters. The firehouse's historic and narrow archway allows just an inch or two of clearance on either side of the rig as it exits and enters the building. Many detailed chauffeurs' egos (and their rigs) have been bruised trying to wriggle their apparatus in and out of 55's quarters. The irregular angle of Broome Street relative to the building's lines makes driving the fire engine in and out of quarters particularly tricky.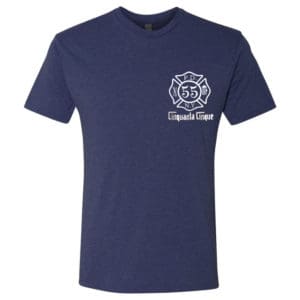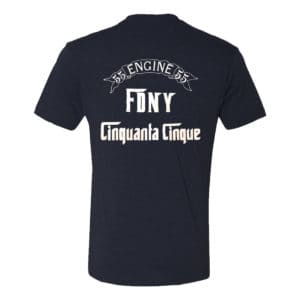 LITTLE ITALY "CINQUANTA CINQUE" E 55 HOUSE TEE